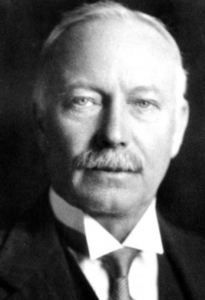 Edwin Binney was an American entrepreneur and inventor who created the first dustless white chalk, and was the co-founder of Binney and Smith: the company now known as Crayola. He was born on November 24th, 1866 in Shrub Oak, New York, and passed away on December 17th, 1934. Edwin Binney left behind an extraordinary legacy for environmentally friendly business initiatives.
The History of Crayola
Noticing a need for safe and affordable wax crayons, Binney & Smith made the first box of 8 Crayola crayons in 1903. "The trade name Crayola was coined by Mrs. Edwin Binney, a school teacher, who joined the French word 'craie', meaning stick of chalk and 'ola' from the word 'oleaginous', meaning oily." (Crayola.com)
Edwin Binney was known for his love of the outdoors, which was reflected in the names of some early crayon colours. He was also
known for his interest in helping those in need. Crayola works hard to continue Edwin Binney's legacy by minimizing their environmental footprint and striving to achieve environmental goals, and enriching the neighborhoods, schools and lives of families in the communities in which they operate.
Community Gardens

In 2011 in Easton, Pennsylvania, Crayola built a community garden called Edwin's Garden, which has over 18 different 100 square foot garden beds. The garden is tended by Crayola employees and each year produces about 1 ton of produce for those in need in the Lehigh Valley region.
In 2019, a team of local businesses and non-profit agencies in Lindsay Ontario are working together to create another community garden called Edwin Binney's Community Garden. Read all about it here.
Solar Panels
In 2011, the Crayola solar farm was completed in Easton and has 30,000 solar panels which produce 3mg WATS of electricity or the equivalent of producing 2 billion crayons with the power of the sun: that's enough crayons to go around the world 4 times. These solar panels help reduce Crayola's greenhouse gases by 3,800 tons per year which is equivalent to removing 650 cars from the road each year. (youtube.com)
Crayola sets an excellent example for other companies when it comes to giving back to communities. Crayola continually goes out of their way to give back, and the communities in which they operate are grateful.
By: Co-op student Leah Cooper
Sources
"Can you tell me the birth dates of the founders Edwin Binney and C. Harold Smith?" Crayola.ca. 22 Feb. 2019 <http://www.crayola.ca/faq/your-history/can-you-tell-me-the-birth-dates-of-the-founders-edwin-binney-and-c-harold-smith/>.
Olanoff, Lynn. "Crayola garden harvest benefits Easton Area Community Center." Lehighvalleylive.com. 20 July 2012. Lehighvalleylive.com. 22 Feb. 2019 <https://www.lehighvalleylive.com/easton/index.ssf/2012/07/crayola_garden_harvest_benefit.html>
"Who invented the crayon?" Crayola.com. 22 Feb. 2019 <https://www.crayola.com/faq/your-history/who-invented-the-crayon/>.
https://www.youtube.com/watch?v=S5Unyl005fQ