50th Anniversary Community Champions Touchdown Dinner an Unprecedented Success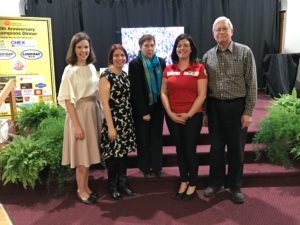 Our 2018 Campaign Touchdown Dinner Event was our most successful yet. This year we were able to secure some incredible silent auction prizes and event sponsors to come away with over $5,000.00! Our guest speaker Denise Hepburn, retired 8-Wing Master Corporal, was an inspiration to all as she told her story of the incredible battle she has faced after suffering a C2 spinal injury in a training exercise: an injury with a 5% survival rate. She overcame the physical challenges and continues to deal with the mental health side of a life-long injury. Her fortitude helped drive her to compete in the 2017 Invictus Games in rowing, seated volleyball and swimming. She won four bronze medals in swimming. Denise spoke about the importance of having support systems like United Way in place for people who are suffering from mental health issues. She is proud to be able to bring awareness to mental health initiatives and hopes sharing her journey will encourage others to reach out for help, especially those dealing with PTSD.
We wish to sincerely thank our sponsors for this event, along with the VCCS Employment team for their incredible support of this event. Without you, there would be no way. Read more about the Touchdown event and our upcoming projects, as well as new volunteer opportunities in our Spring Newsletter!
Our 2018 Annual Curling Bonspiel Rocked! (we couldn't resist)
What an incredible weekend we had at our Annual Curling Bonspiel! We had curlers of all ages and all skill levels join us for a day full of curling, prizes and food. Thank you to our amazing group of volunteers led by Audrey Quibell, who worked tirelessly to create yet another successful fundraiser for our campaign. Curlers, you "ROCK" (no pun intended)! Check out our news section for photos and all of our thank yous.
Give.Volunteer.Act
The United Way along with many non-profit agencies, businesses and government have made a measurable difference in the City of Kawartha Lakes. Our donors and volunteers are critical to the success of our community. The agencies we support financially, and through collaborations, are committed to the people who live here. Together, we offer help and hope. Collective caring defines this community as one where we want to raise families, retire and work.
By bringing citizens from all parts of our community to identify opportunities for sustainable growth and to address critical challenges, we ensure that the donations we receive go where they are needed the most… and where they will have the greatest impact.
For past news events, don't forget to visit our News Page.