50th Anniversary Community Champions Touchdown Dinner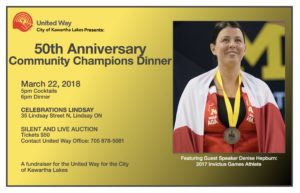 United Way for the City of Kawartha Lakes is excited to announce a special 50th Anniversary Campaign Touchdown Event. The 2017/2018 Campaign was a year of celebrating Community Champions and Canadian Heroes. We are thrilled to have 2017 Invictus Games medalist, Denise Hepburn as the guest speaker for this event.
Denise came back from a C2 spinal injury that only 5% of people survive. She worked as a Medic in the military for 13 years before her injury, including a tour of Afghanistan. Through determination and hard work, Denise made an incredible comeback that led her to compete in the 2017 Invictus Games in swimming, indoor rowing, and sitting volleyball, winning four bronze medals in swimming. Denise has since appeared on The Marilyn Dennis Show and Global News where she shared her experiences.
The United Way for the City of Kawartha Lakes team is pleased to have such an inspiring Canadian as our guest speaker. "We began our campaign with a dedicated team that brought Col. Chris Hadfield to our community. We are so honoured to have Denise Hepburn, another Canadian hero, join us to share some of her journey. This year we chose a different leadership style for our campaign where we have been celebrating and featuring community champions from across the City," says Duncan Gallacher, United Way CKL Board President.
The 50th Anniversary Community Champions Touchdown Dinner will take place on March 22nd, 2018 at Celebrations Lindsay (the old Queen Street United Church located at 35 Lindsay Street N) with cocktail hour starting at 5:00 pm and a seated buffet dinner at 6:00 pm. There will be a silent and live auction.
Please join us for what promises to be an inspiring evening. Tickets will be $50/person or $350 for a table of 8. Tickets are available at the United Way for the City of Kawartha Lakes office at 50 Mary Street West, 705 878-5081.
Our 2018 Annual Curling Bonspiel Rocked! (we couldn't resist)
What an incredible weekend we had at our Annual Curling Bonspiel! We had curlers of all ages and all skill levels join us for a day full of curling, prizes and food. Thank you to our amazing group of volunteers led by Audrey Quibell, who worked tirelessly to create yet another successful fundraiser for our campaign. Curlers, you "ROCK" (no pun intended)! Check out our news section for photos and all of our thank yous.
December 2017 Newsletter
Check out some of our new promotional activity!
Here is our December Newsletter which sums up the last few months of exciting news at United Way for the City of Kawartha Lakes. In this edition, we are proud to announce the results of our 29th Annual Crayola Sale and share some biographies on a few of our local Community Champions.
If you are still looking for Holiday gifts for loved ones, consider a donation to the United Way for the City of Kawartha Lakes. For a few reasons why, check out our fun and informative YouTube video here: https://www.youtube.com/watch?v=SahWY_KXTBE


Give.Volunteer.Act
The United Way along with many non-profit agencies, businesses and government have made a measurable difference in the City of Kawartha Lakes. Our donors and volunteers are critical to the success of our community. The agencies we support financially, and through collaborations, are committed to the people who live here. Together, we offer help and hope. Collective caring defines this community as one where we want to raise families, retire and work.
By bringing citizens from all parts of our community to identify opportunities for sustainable growth and to address critical challenges, we ensure that the donations we receive go where they are needed the most… and where they will have the greatest impact.
For past news events, don't forget to visit our News Page.