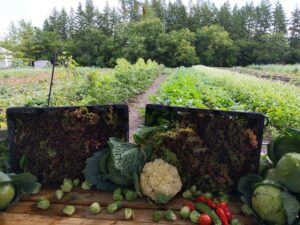 Edwin Binney's community garden has exceeded 10,000 lbs of produce harvested this season; United Way for the City of Kawartha Lakes announced Monday. The community garden is in its second year of production, and provides food to 11 local food banks, 10 charity organizations, as well as additional clients and school groups from May to October. The garden came about through community consultations with local stakeholders, Crayola Canada and Fleming College becoming lead partners with UWCKL.
Last year, the final total was 5,500 lbs of produce donated. This year, the size of the plowed area was expanded in order to produce larger yields, and multiple crops were planted in succession throughout the season.
Reaching the milestone was an important moment for UWCKL's team, explains Executive Director Penny Barton Dyke, "We have had a fabulous team working to create substantial leaps in the yield this year in anticipation of greater need for fresh food during Covid-19.  Our team is excited about reaching this milestone and they worked tirelessly through some tough weather and within COVID-19 restrictions."  "Knowing this garden is helping people is what drives all of us," she adds.
As the season wraps up, their team is as busy as ever. Not only is work at the garden continuing to prepare for its third season, but UWCKL's work in providing funding to community programs is facing greater demand than ever, explains Shantal Ingram, Community Investment Coordinator. "Donations to this year's campaign will help UWCKL address essential needs in the City of Kawartha Lakes and Haliburton County during the COVID-19 pandemic and as we recover and rebuild over the long term. Every donation will make a difference to the lives of your friends, neighbours and colleagues who are experiencing challenges due to the pandemic."
More information on Edwin Binney's Community Garden can be found at https://ckl-unitedway.ca/edwin-binney-community-garden/