Campaign Highlights 2016
Saturday, October 1st – Fleming's Moveable Feast
Frost Campus, Fleming College.  Tickets $35. per person
Leadership Giving
Leadership donors are recognized each year in our Leadership Booklet prepared for Touchdown and is available here via the link. Tax benefits, of course, make it easier to be generous.
Olympia 100 Mile Dinner Cheque Presentation
United Way Funspiel
Community Care Low Income Dental Program Cheque Presentation
Campaign Highlights 2015
Touchdown for 2015 Campaign
Campaign Total Announced
Campaign Highlights 2014
November 20, 2014
LCVI students and staff presented UWCKL Executive Director Penny Barton Dyke and Campaign Co-chair Robin Nisbet with a cheque for $2500.00 at centre ice prior to the start of a hockey game against IE Weldon SS representing their contribution to the 2014/15 Campaign. The students, who raised $1,000.00 of the total, then challenged IE Weldon students to match their pledge.
November 17, 2014
Rotary Club of Lindsay members participated in a Seeing is Believing tour where they had the opportunity to see their United Way dollars at work when they visited several member agencies. Over lunch at Boston Pizza President Dan Donaldson presented Penny Barton Dyke with a donation of $2,000.00 towards the 2014 Campaign.
November 13, 2014
At a special ceremony, the students of Fenelon Falls Secondary School presented the UW with a cheque for $1,000.00 as a result of their fundraising at their annual autumn UW football game. Well done to our future leaders for helping shape a caring, responsive community!
October 1, 2014
The RBC Foundation generously donated $2,500.00 to your local United Way to assist with the development of   sustainable food sources/community gardens and to alleviate homelessness.
September 7
Bike 4 UW
The UW CKL had the pleasure of hosting the Ontario Public Service Employees Bike For United Way – Southern Loop team for a breakfast on Sunday September 7, as they completed their 870 km, 6 day ride through Southern Ontario.  To date the team has raised $32,586.00 in donations for United Ways across Ontario.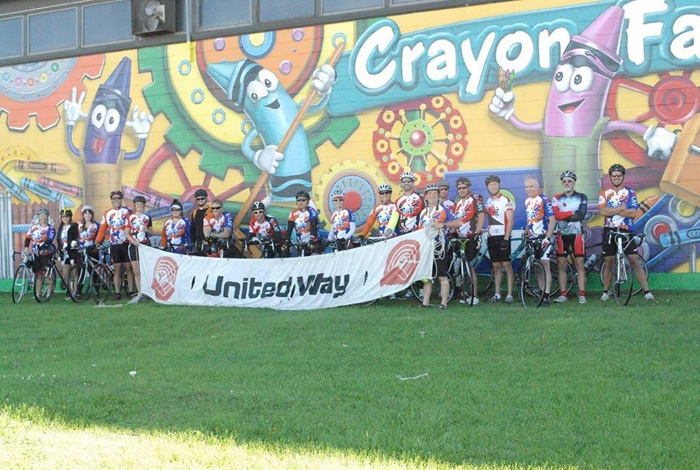 More Images from 2014
2014 Campaign Chairs Announced
We are very excited to have Sarah Quick and Robin Nisbet leading our annual campaign for 2014/2015.  As leading citizens in this community, both fully understand the needs for vital and specific programs for all citizens.  As part of the United Way team, Sarah and Robin will assist the campaign cabinet team to continue the mission of building strong and healthy communities.  Both see the need for the collaborative strength of the funded agencies, community partnerships and special programs initiated by United Way to help with systemic issues such as poverty and safe housing.
Writer, director and actor Sarah Quick, born in Manchester England,  trained at the University of Wales and obtained an Honors Bachelor of Arts degree in Drama along with certificates in acting from the London College of Music and The Guildhall. In 1999, Sarah formed Quick Change Theatre and toured throughout Canada, Ireland, England, the U.S. and Australia with her self-penned works including  'Do You Take This Man?', which was CBC's Pick of the Edmonton Fringe in 2002 and received an 'outstanding Drama' award at the Melbourne International Fringe the same year.  Sarah now lives in Bobcaygeon and is the Artistic Director of Globus Theatre at The Lakeview Arts Barn.
Born and raised in Lindsay, Robin Nisbet has been community minded since childhood. Starting with organizing backyard carnivals and plays to donate the funds to local organizations, Robin has continued volunteering and giving back throughout her life. A 24 year veteran of municipal recreation services, Nisbet truly loves her work and has never had the same day twice. Nisbet's involvement with United Way has been on many levels, as event participant, Corporation Campaign Leader, Cabinet Member and Allocation Committee Member. Robin is excited to work with Sarah to head the 2014 Campaign and hopes to incorporate her passion for active living into campaign events and messaging.
The impact of United Way donors is inspiring. Since 2001, over $3.4 million has been invested into 15 agencies and more than 40 programs annually, helping citizens across the City of Kawartha Lakes. These programs impact citizens of all ages and stages. Whether it is support with child care or assistance with aging family members, United Way donors and volunteers touch the lives of more than 25,000 citizens each year.
The United Way has made a measurable difference in the City of Kawartha Lakes. The agencies we support financially, and through collaborations, are committed to the people who live here. Sarah Quick and Robin Nisbet share the compassion and passion that your United Way for the City of Kawartha Lakes believes in.