If you are in need of assistance, here are some numbers you can call:
Community Hub at King Albert Public School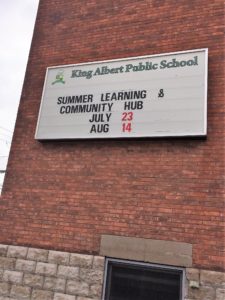 Our first ever Community Hub at King Albert Public School was a success! Surveys returned from class participants were mostly positive: adults appreciated the food they were provided with, the fee coverage for each course, the ease of access to child care on site and the certifications/knowledge that they gained which will give them a "leg up" into future employment.
Child minding was provided, free of charge, to four children of three mothers who took the Safe Food Handler course. Volunteer caregivers Emily and Judy provided childcare to these four children, along with help from United Way staff member Elly. Other children who took the Cooking with Tweens Program in the morning (provided by John Howard Society), had the option of taking a bus to join in programming at the Boys and Girls Club for the afternoon.
A healthy snack and lunch was provided to each child and program participant each day of programming. A group of about 5 volunteers helped to prepare the food on Mondays, Tuesdays and Thursdays, while on Wednesdays and Fridays, the food was prepared by the Brown bag Lunch program and distributed at the school by Mallory Cramp-Waldinsperger (Summer Student at United Way CKL). On food prep days, Mike Kleinhuis (Pastor of The Centre Community Church) and Mallory purchased food, led the team of volunteers to prepare the food, and distributed the food to children in the school. Most days, approximately 60 healthy lunches were provided to Community Hub participants. The menu and budget were created by Mike Kleinhuis and Aisha Malik, and food was purchased from the Kawartha Wholesale Bakery and Valu-Mart.
Thank you to every partner, volunteer, and agency who was involved in the planning and execution of this pilot project!
Community Hub at King Albert PS- Press Release
50th Anniversary Community Champions Touchdown Dinner an Unprecedented Success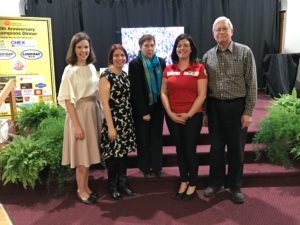 Our 2018 Campaign Touchdown Dinner Event was our most successful yet. This year we were able to secure some incredible silent auction prizes and event sponsors to come away with over $5,000.00! Our guest speaker Denise Hepburn, retired 8-Wing Master Corporal, was an inspiration to all as she told her story of the incredible battle she has faced after suffering a C2 spinal injury in a training exercise: an injury with a 5% survival rate. She overcame the physical challenges and continues to deal with the mental health side of a life-long injury. Her fortitude helped drive her to compete in the 2017 Invictus Games in rowing, seated volleyball and swimming. She won four bronze medals in swimming. Denise spoke about the importance of having support systems like United Way in place for people who are suffering from mental health issues. She is proud to be able to bring awareness to mental health initiatives and hopes sharing her journey will encourage others to reach out for help, especially those dealing with PTSD.
We wish to sincerely thank our sponsors for this event, along with the VCCS Employment team for their incredible support of this event. Without you, there would be no way. Read more about the Touchdown event and our upcoming projects, as well as new volunteer opportunities in our Spring Newsletter!
Our 2018 Annual Curling Bonspiel Rocked! (we couldn't resist)
What an incredible weekend we had at our Annual Curling Bonspiel! We had curlers of all ages and all skill levels join us for a day full of curling, prizes and food. Thank you to our amazing group of volunteers led by Audrey Quibell, who worked tirelessly to create yet another successful fundraiser for our campaign. Curlers, you "ROCK" (no pun intended)! Check out our news section for photos and all of our thank yous.
Give.Volunteer.Act
The United Way along with many non-profit agencies, businesses and government have made a measurable difference in the City of Kawartha Lakes. Our donors and volunteers are critical to the success of our community. The agencies we support financially, and through collaborations, are committed to the people who live here. Together, we offer help and hope. Collective caring defines this community as one where we want to raise families, retire and work.
By bringing citizens from all parts of our community to identify opportunities for sustainable growth and to address critical challenges, we ensure that the donations we receive go where they are needed the most… and where they will have the greatest impact.
For past news events, don't forget to visit our News Page.